Forming Shadowlake Village took sustained dedication and vision from our founding members. Walk with us through the early years of our community's creation.
1997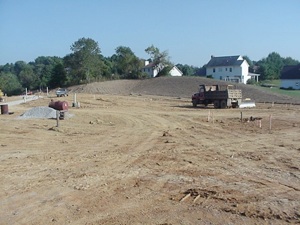 Folks began meeting in Blacksburg to talk about an exciting and idealistic idea: creating a cohousing community in the New River Valley.
1999
A core group of committed and idealistic pragmatists incorporated as New River Valley Cohousing LLC and started to search for suitable land.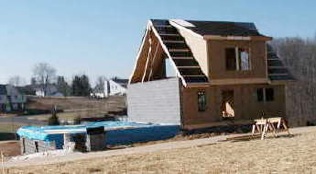 2000
About 12 families and individuals took a huge risk by purchasing a 33-acre site in Blacksburg for 33 future households. By the end of 2000, sixteen households had committed to the project and overcome a great hurdle: rezoning the property to enable cohousing-style development.
2001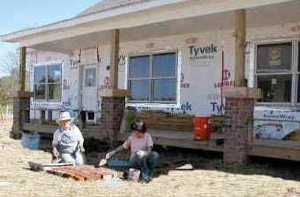 Throughout the year, contractors transformed the hillside and ridgetop of the property into a building site with the beginnings of streets, water and sewer connections. At the end of December, the first resident moved in to the first completed residence in the middle of an ongoing construction zone.
2002
The community built and moved-into 20 more houses, paved the pedestrian walkways (aka pedways), landscaped completed properties and founded the first community garden.
2003
Neighbors began using the newly-complete Common House for common meals, meetings, parties and gatherings of all kinds. Folks moved into more newly-constructed homes.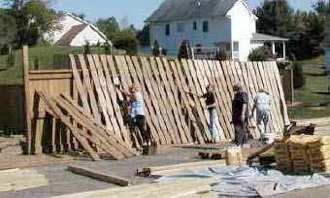 2004
By the end of this year, Shadowlake Village housed 31 households and with the 32nd lot sold and about to begin construction.
2005
Residents built and moved into the last two Shadowlake homes. Our home construction phase officially ended
2006 and Beyond
Thirty-three households live and build community together at Shadowlake Village.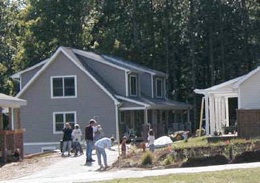 Home Construction Details
Most of our homes, and the common house, have been built by our project builder, the Community Housing Partners Corporation. Two homes were constructed by Shelter Alternatives, a custom builder in Blacksburg.
Our project architect, Architectural Alternatives of Blacksburg, developed several very flexible and livable standard house plans especially for our cohousing project, and worked with each new household to finalize their plans.